Adding a furry friend to your family can do wonderful things for your kids. One of the reasons kids love playing with pets is ecstasy and joy. It is not just the fun everyone has with puppies/kitties; other advantages are beyond it. A domestic animal can play a significant role in the growth of kids in both physical and psychological terms. If you have been wondering whether it is the right time to add a new member, reading the following reasons would make your decision easy: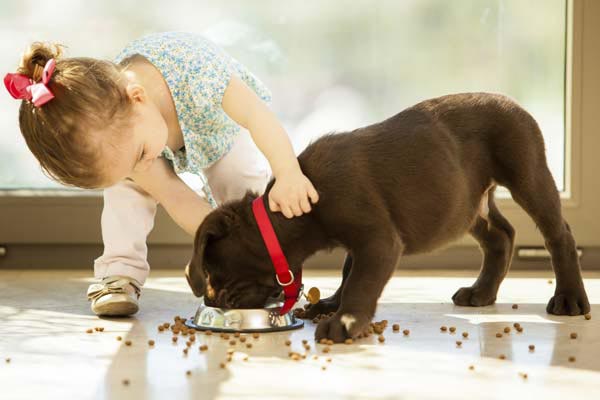 Good for Kids with Autism:
Spending time with pets makes substantial progress in children related to social interaction. Introduce a pet with your family when the girl/boy is five years old or above. Social skills children develop at this stage will benefit them later in life. Having a dog means taking care of him as your own child. Therefore, get your pet along with your kid for a walk, to parks and restaurants or even to the grocery store. Your kids would have a likelihood of making new friends or interact with other children who also have pets and sharing some tips.
Keep the safety of both in mind whether you are on a walk or at some restaurant.  Cars hitting the dogs and injuring them is now becoming common. Pets like to wander on their own and sometimes end up getting hurt. Pet strollers provide you that safety and convenience that you might be worrying about. This thing would not only keep them safe but also prevent them from smelling every corner in the store and creating chaos. Besides, it is a protection from the sun. OxGord has succeeded to provide the best pet supplies, and you can turn to them with the view to get the stroller worth investing. OxGord Pet stroller reviews would remove all other ambiguities you might have. Access petsonjourney.com and find out more about these pet strollers and other relevant content to keep your pets safe.
Social Development and Responsibility:
Pets teach children several things. One of these is responsibility. These cute, furry friends are a huge responsibility that falls on parents. Putting some of the concerns on your kid would assist him/her in abundant ways. They would learn to control and manage a work he or she has been given. The child would apply the same learned behaviors while doing his/her homework. As a parent, you are required to play your part as well. Make them understand everything clearly when assigning responsibility. He should know what is being expected from him to avoid any mishap.
Can Be Used As Therapy Aids:
Pets contribute to the comfort and security of kids who are dealing with anxiety and depression. Animals are used as therapy in rehabilitation centers, hospitals, and retirement homes as well. The same can be a fantastic remedy for kids. Pets prove to be a perfect partner for the infants who have gone through traumatic experiences or lost their loved ones. Pets speed up the process of healing because children can share their feeling with them that they avoid doing with anybody else.
Encourage Physical Activities:
Having pet means you little one does not have to stay glued to his video game or mobile device. He/she has got something better to do with that four-legged creature. The pet would keep the child outdoor most of the time for playing and also for the daily walk in the park. Your pet would not fail to keep your grown up baby active.