Assuming that you're a new parent, that is when you'll discover just how tricky choosing the right baby carrier can be. That is because they come in all sorts of types and sizes, and you would probably be wondering which one would fit your baby most comfortably. Choosing the wrong baby carrier could prove to be a nightmare due to discomfort and other things that could be harmful to the baby. In this article, we are going to discuss everything that you need to know about how to choose a baby carrier.
Wraps
Wraps consist of rectangular fabrics that you use to tie the baby around yourself, and they work best for newborn babies that can't hold their heads up on their own. As the babies become older and are able to move their heads on their own, wraps sort of become restrictive and uncomfortable.
Carriers
Carriers usually come with soft structures, aimed at the older babies. For the younger ones, extra padding can be added, or adjusting of the straps can be done. For the heavier babies, you would want carriers with padded straps and waistbands for better support. When looking for a carrier, take the following things into consideration:
Go for one that can be worn with the baby high in a way that you can even kiss the top of their head.
Go for one with a wide or adjustable seat since this one will help to distribute the baby's weight, while the hips are kept healthy.
Remember, you also need to consider if they can be used with inserts, the high weight limit, and whether the carrier is front or back facing.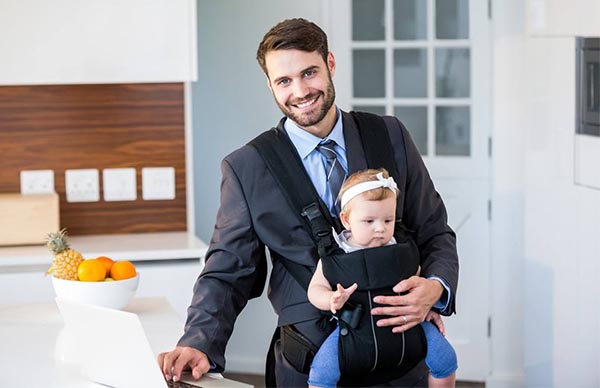 Ring Slings
These come in the form of boxers or briefs, and they are best for hotter climates since they allow air flow. One downside is that they put all the weight on the shoulders of the parents.
What carrier suits the weather?
You need to make sure that the carrier suits the weather, going for breathable fabric with mesh during the summer, and heavier wraps during colder weather.
Portability
There are some carriers that are bulky, while there are some that are so compact, they can easily fit into a diaper bag. Considering how much you'll be moving around, you might want to go for one that will suit your circumstances the best.
Advantages of Baby Carriers
Baby carriers come with several advantages, and we are now going to rush through some of them in this baby carrier guide.
Carried Babies Cry Less
Babies tend to cry less when they are carried in carriers, and according to one study that was carried out on a group of random babies, crying was reduced by up to 43%.
Babywearing is Physically Good for the Infant
It comes with physical advantages to the infant since the upright position massages their abdomens, encourages good digestion, and preventing physical abnormalities.
Promotes Healthy Emotional and Mental Development
It is great for emotional and mental development as the baby can breastfeed when they are hungry, while keeping warm at the same time. They also become alert with their surroundings, even improving their interactions through eye level contact.
It Makes Parenting Easier
Parenting is easier as parents can do other things when their babies are strapped to them. This is also good for the infancy stages of their lives.
It Promotes Attachment
Babies tend to bond with their parents more than they would if they were in strollers. Skin-to-skin contact is a proven medical way of healing sick infants.
It Is Economical
Baby carriers are cheaper than strollers, and unlike strollers that the baby can outgrow, strollers can easily be adjusted to fit the growing baby.
Baby Carrier Accessories
Covers for bad weather
Bibs
Teething pads
Top Manufacturers
Ergobaby
Babybjorn
Lillebaby
Conclusion
It is important for parents to get for their babies' baby carriers. They come with numerous advantages, and they tend to make the parenting role much easier. Go for one from the mentioned top manufacturers for the ultimate baby experience.